Integrated Management System Re Certification
Scope
Descon Automation Control System provides the following Products and Services:
Trading, Assembly, Installation & Supervision, Calibration, Testing, Commissioning of Process Analyzers, After Sales Service and Integration of Process Instruments via Control Systems and Supervisory Control And Data Acquisition (SCADA).
The Integrated Management System (QHSEMS) has been implemented within the organization supporting its procedures to reflect DESCON strategic decision to adopt a process approach throughout our organizational processes, in order to ensure compliance with customer requirements and to enhance customer satisfaction.
This approach considers the application of a system of processes throughout our organization, as well as the identification and interaction of these processes, and their management. This management system is consistent with the requirements specified by ISO 9001:2015, ISO 14001:2015 & ISO 45001:2018, as it applies to the products and services provided by our organization.
The procedures, policies and practices presented herein are applicable throughout all areas and levels of the organization. All personnel under the control of Descon Automation Control System LLC, Descon Technology LLC and Descon Automation Control System are responsible for ensuring the QHSEMS of their work and for operating in conformance with the requirements of QHSEMS.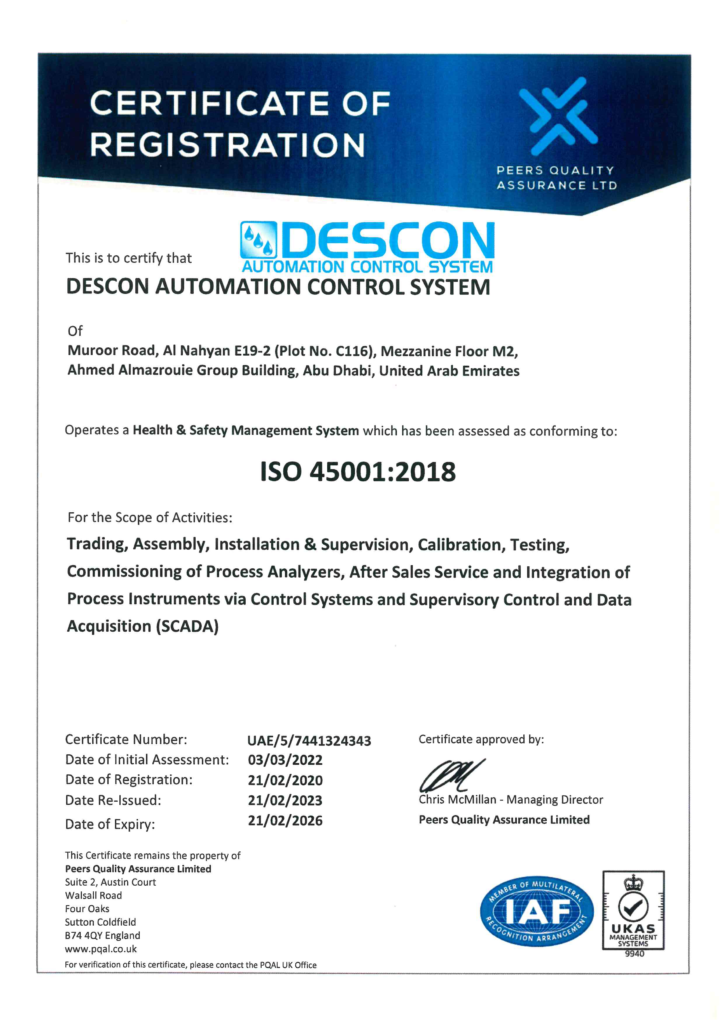 Feel free to contact by mail: info@desconllc.com for more details.