Team Descon Automation Control System LLC have successfully completed the site commissioning of DM irrigation panel for Rhodus lake situated near Al Qudra.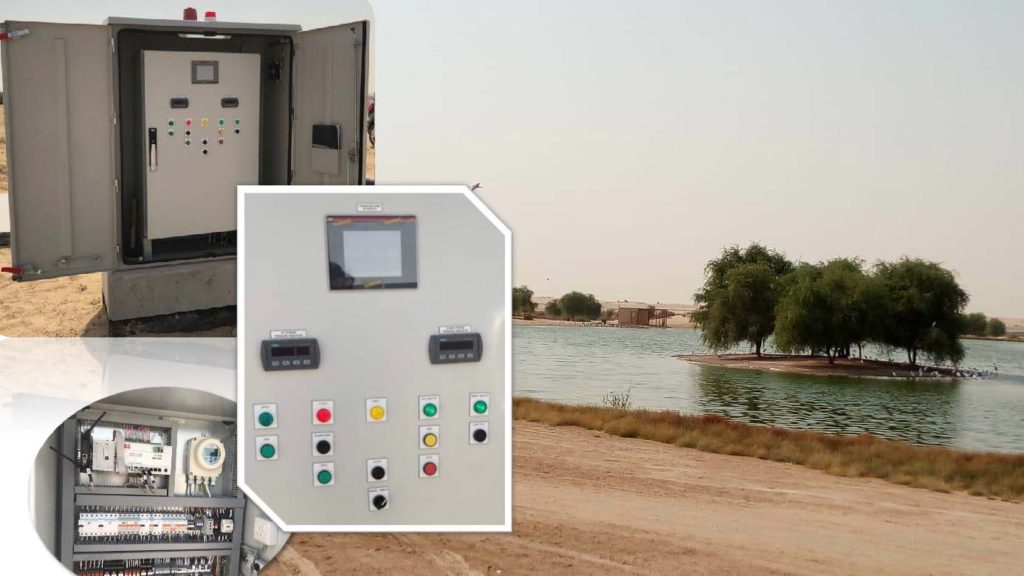 This is the first Descon Automation Control System LLC Remote Terminal Unit Panel being integrated with major field devices from ABB for Dubai Municipality.
RTU system is custom designed and assembled in IP54 rated sheet steel cabinet inside another outdoor enclosure.
Hardware components included:
Remote Terminal Uunit (ABB 540CID01),
Human Machine Interface (ABB CP630) and
Flow Transmitter (ABB WATERMASTER)
Descon Automation Control System LLC has carried out in-house RTU program development as per Dubai Municipality (DM) requirement.
Flow meter is communicating via Modbus protocol which is a system improvement by Descon Automation Control System LLC.
This concept avoids multiple signal cables (Analog / Pulse) from field sensors to RTU and avoiding chances of missing totalizer values. Conventional design involved 4~20mA and pulse signal modules to obtain such parameters resulting manual corrections from system side due to system unavailability and missing of pulses from flow meter.
Flow control element is an AUMA valve which is controlled by RTU as per the demand of water supply set by end user (DM). The RTU is communicating with DM control centre via GPRS modem.