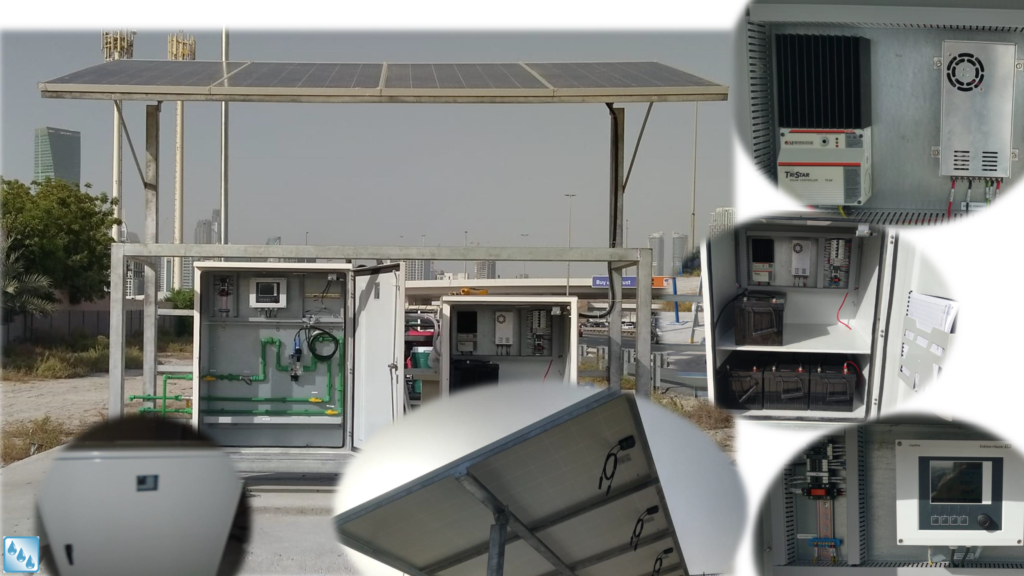 Water being an essential for everyone must be ensured to be free from impurities before consuming it. Thus analysis of Water becomes an important task with Utility Service Providers. Automatic Monitoring of Water Quality Parameters are achieved by implementing highly intelligent sensor and transmitter systems there by monitoring continuously or even interval based sampling.
UAE's leading utility service provider is innovative in adding latest technology into their network. Descon Automation Control System LLC together with its associates have been invited to provide a PILOT system in this in Dubai.
Water Quality Parameters monitoring system is energized from Solar Power Supply unit including,
Solar Charge Controller
DC-DC Converter to obtain regulation on DC output voltage
Batteries for 48 hours backup, with required electrical & assembly accessories such as MCB, Terminals
IP54 GRP Kiosk for housing the above mentioned solar items
Solar PV modules & necessary cables
Water Quality Analysers panel assembled with following:
Transmitter – 1No,
Flow Assembly – 1 No, cables
PPR tubing & fittings,
Y-Strainer,
Ball valves,
Bulk Head connectors, Tee Joints, Elbows,
Back Pressure Relief valve for WQA assembly
RTU
All above assembled on MS – Hot Dip Galvanized structure with electrogalvanized backplanes for mounting GRP kiosks of Solar controller & WQA panel.
Pilot System is being installed at it's designated location allowing the end user to receive real time data over their telemetry system.